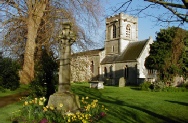 Parish of Hempsted with
St Mary de Lode and St Mary de Crypt
If you have any prayer requests, please send them
to: prayer.requests@swithunandmary.org.uk
Keep us, gracious God, under the shadow of
your mercy.
In this time of uncertainty and distress,
sustain and support the anxious and fearful,
and protect those who work on our behalf;
that all may rejoice in your strength
knowing that nothing can separate us
from your love in Christ Jesus our Lord.
Amen.
The Diocese of Gloucester is working with The Long Table, Stroud, to get food to those who need it at the moment. Whether you are self isolating, know someone who is, or would just like a great healthy and delicious dinner we are now offering takeaway and free delivery for all meals. If cost is a barrier for you at the moment do let us know - we have meals that we have prepaid which we can give you. There is also the option to make a donation to pay for meals for those who are struggling financially. You can find more details on the diocesan website.
Welcome
Christians have worshipped in Gloucester for many centuries.
Here in the Parish of Hempsted with St Mary de Lode and
St Mary de Crypt,Gloucester we are proud of the fact that we
have care of the oldest parish church in the city,
St Mary de Lode.
Along with the other churches in the parish, St Mary de Crypt
and St Swithun's, we are part of the Church of England in the
Anglican diocese of Gloucester. Parish life is centred around
the weekly celebration of the Eucharist as we continue to
witness to the love of God in Jesus Christ in the city centre
and Hempsted. We do this in a growing partnership with
Gloucester Cathedral as together we serve the city.
We welcome people who are established in their faith and
those who would like to know more.
Do come and see.
Canon Nikki Arthy, Rector
We are very happy to carry out christenings, weddings and
funerals for all those who live within our parish boundary,or
have a connection with our churches.
If you would like to have your child christened or to be
married in one of our churches, then please contact the
Rector, Canon Nikki Arthy on 01452 523808
or email her on:admin@swithunandmary.org.uk
God of tradition and of change,
you lead your people ever onwards with
gentle touch yet insistent Word.
Give us the grace to seek you,
the honesty to engage with you and the courage
To interpret the Gospel to your world;
through Jesus Christ. Amen.
All services, events and gatherings are
suspended until advised otherwise
The Family Haven's
Shopping List
Click on the shopping trolley to find out how you can donate
Coronavirus Information
Our church buildings remain closed, but we continue to pray, to hope and to care for those in need in our local community.
If you are in any way worried or know of neighbours who might appreciate extra support at this time, do contact us at admin@swithunandmary.org.uk or
01452 523808.